The first point on any journey is where you start, so here's a little about Catabout's home.
Tollesbury is on the east coast of England, on the River Blackwater. It has a long history of sailing here, and was home at the beginning of the last century to some of the J class yachts, the early racers for people like Lipton etc and early competitors for the America's Cup. The old sail lofts have been restored, and make a distinctive feature on the waterside.
Tollesbury, Village of Plough and Sail
Although greatly reduced in number, there are still some working fishing boats in the area, and there is a thriving oyster industry. Many of the creeks have oyster beds marked by withies or long sticks. Woe betide the stranger who moors there! The old style fishing boats and cargo boats that served the area are preserved by passionate groups, and the traditional regattas make a wonderful sight.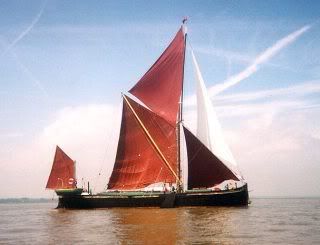 The
marina
has been here since 1970. Before then there was a small basin in the saltings, or saltmarshes. Many boats still moor in the creeks that riddle the saltings and tideway. But your boat has to be able to cope with drying out and sitting on the thick east coast mud between tides.
51 45.48'N 00 51.10'E